Alzheimers Wandering
How to Keep Them Inside!
Alzheimers wandering is the term for when someone with Alzheimer's Disease keeps walking around aimlessly. Some people will just walk continuously, until they wear themselves out.
Three out of four people with this disease will wander at some point.
Alzheimers wandering is really not much of a problem, unless they are trying to get outside.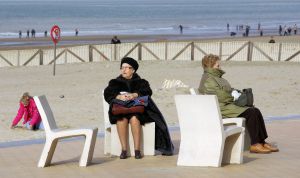 It is very dangerous for someone with Alzheimer's Disease to be outside alone. They may live in areas with extreme weather conditions and getting lost outside for an extended period of time could result in injury.




Alzheimers Wandering Reasons
Why do they wander? There could be any number of reasons. They may be looking for a bathroom or they may be thirsty or hungry. Sometimes they have glimpses of their past and may think it is time to go to work.
I had a woman who woke up every morning and said she had to hurry and get ready for school. School for her was 70 years ago, yet that memory was very vivid. Often when they are trying to get outside it is related to a work memory. I have found that the distraction technique works best in those situations. I would tell the woman who had to go to school that it was Saturday and there wasn't any school that day. Most of the time she accepted that answer and would move on to something else.
Another example is a retired truck driver who would adamantly insist he had to "get on the road". His wife let us in on her secret that always worked. She simply told him he was out of hours. You could see him relax and he would find something else to do.




Distraction techniques don't always work but it has always been the first thing I try.
There are ways to make your house safer. Doors are always a problem. There are several ways to help prevent them from opening the door. Sometimes a stop sign on the door will work. Another trick is to camouflage the door. There are whole door posters available or a mirror on the door may work.
A second lock at the top or bottom of the door can also be helpful since most people with the disease mainly look at eye level.
There are many different types of alarms on the market. There are motion detector alarms, sensor mat alarms, and alarms which go on the door that will sound when the door is opened.
Another technique I have heard of, is placing a black mat on the floor in front of the door. Some people with Alzheimer's Disease will interpret it as a hole in the floor.
I recommend using as many of the prevention methods as possible. Alzheimers wandering is probably the biggest worry for most caregivers. Anything to help ease that worry is worth the time and money.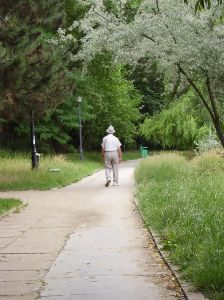 It is a good idea to make sure the person with Alzheimer's Disease has identification on them in case they ever do get outside. A bracelet with their name and emergency contact on it is a necessity. Don't rely on a wallet or purse. Some people with Alzheimer's can't remember their own name. You want to be sure if they get outside that someone will be able to identify them and notify you when they are found.


Alzheimers wandering is a phase that most people with this disease go through. One of the best things you can do is to have an area they can wander in safely in your home. Rearrange the furniture to give them plenty of walking room.
Remember the more energy they get rid of during the day, the better they will sleep at night and so will you.










Home Page Alzheimers Wandering Home Safety Alzheimers Driving Safety Alzheimers Kitchen Safety Alzheimers Bathroom Safety Alzheimers Fall Safety Alzheimers Home Safety Checklist